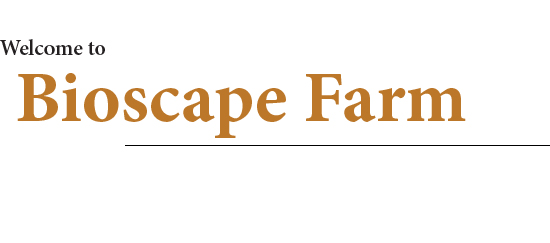 Welcome to our site! Here you can learn more about us, our farm and our animals, and keep checking back for more information. Also visit us on Facebook or Instagram.
Bioscape Farm is our family farm located on a beautiful patch of land in Vanderhoof, BC. Our philosophy is sustainable farming practices, pasture and natural grain raised animals, and heritage breed conservation. We work hard to provide a diversity of quality animals and products for our customers, that are raised in healthy environments and are free of hormones. At Bioscape Farm, we have meat, eggs, fibre, honey, breeding animals and more and are continually finding ways to use everything our farm has to offer us while maintaining our farm as naturally and sustainability as we can.
How to Shop Bioscape Farm!
The ways to order our delicious meat keep expanding. You can now:
• Order ONLINE through the Vanderhoof Farmers' Market Store-Front via Local Line. Click here ↓
ORDER BIOSCAPE FARM PRODUCTS ONLINECLICK HERE TO VISIT OUR STORE-FRONT
• Fill out our fillable BIOSCAPE FARM PRICE LIST and ORDER FORM. Fill it out and send it to jm@bioscapefarm.ca if you'd like to order.
• Stop by my downtown Vanderhoof office (behind the Protec Building) to shop. Due to COVID-19 I am not in the shop during the week, so you can text me at 250-570-8560 so we can arrange a time to meet there.
• Follow us on Facebook and Instagram for specials that come up now and then. Thank you for supporting local agriculture!
2021 Lambs
We have lambs in the freezer now from last fall, and our young lambs will be growing nicely on their new pasture this summer. We expect to be butchering in November. We have an order form specific to LAMB ORDERS. Have a look and send it back to jm@bioscapefarm.ca if you'd like whole lamb or a custom box of lamb for this winter.
Heritage Breed Conservation
Heritage breeds are long standing purebred breeds. Many heritage breeds have been selected against, as crosses or hybrid breeds are often more productive. For us, the work of conserving the genetics of these breeds, as well as the fact that heritage breeds have milder temperments are the main factor in our decision to raise heritage breeds. Often heritage breeds are more hardy in harsher climates (like where we live), but may yield fewer offspring. As small scale farmers, the fewer offspring is easier to manage and easier on the mothers!
Sustainability
We live off grid, so everything is done with a thought to energy conservation. For example, how can we heat buildings, raise chicks, and work safely with limited power resources? This creates additional challenges, especially being in northern BC where winter can be long and cold! But energy conservation is part of our overall goal of sustainable farming.
We have over 300 acres of fields and forests and strive to use them to their fullest potential. Our goal is to pasture our animals in environments natural to them - our pigs spend their summers in the forest, hidden under trees and wallowing in naturally low wet areas. Our sheep spend their time roaming the fields, feasting on the diversity of vegetation they provide. Our sheep are never grain fed - always grass or locally sourced quality hay.
Local is important to us as it directly affects our ecological footprint. When we need to direct feed our animals, we look locally first. This keeps our environmental footprint lower than buying even organic feed that is made out of province and shipped here. Vanderhoof is known for its hay production, as well as barley and oats, and the crop farmers we work with in Vanderhoof are responsible and environmentally focussed as well.
Diversity
We enjoy walking out to the farm yard and seeing a whole range of animals, from ducks to pigs to sheep to bee hives, set within a context of forest, wetlands, barns and fields. We are always working to find the best breeds for our land and our lifestyle. We have five children, so we tend to select breeds that are smaller, easier to handle and have a milder disposition. But having said that, we are continually growing and if need be, changing which breeds we have at Bioscape Farm. Check back to our website or Facebook page often to see what else is living at Bioscape Farm!